If the last year and half has taught us anything, it's to let go of expectations and embrace the flow. As we prepared for Warm Gestalt, our first mini exhibition, PK & Friends / Open Studio combination evening, we knew there'd be an upbeat vibe regardless. The outpouring of support was heart warming. Thank you to all who came out. We truly felt loved!
The exhibition, which featured one work from each of our International Artists and our two Local Participants, took place over 175 sq mtr, with the rest of the space remaining studios. The mix provided for a healthy blend of formal and informal atmosphere. Further enhancing this dynamic, curator in residence Carolina Valente gave a presentation on Cuban artist and activist, Tania Bruguera, followed by a walk through Bruguera's Arte Util website with Julianne Csapo. PK & Friends' tradition of guests bringing something to add to the buffet added to the warm welcome for both the artist and the attendees.
Getting warm
What PILOTENKUECHE offers Leipzig is a choir of distinctive voices and artistic directions. Without the distractions of everyday life and with sparks flying from fresh input, artists are freed from usual constraints and encouraged to experiment. This could lead to a new direction in their practise or reaffirm their position. It's an exciting process to watch. The artists of Round 49 were BFFs from day one. They have truly bonded to create an energy of safety and empowerment.
photos by Fanni Papp and Kizzie McNeal for PK
Warm Gestalt reflects this energy. As you enter, you are greeted by the delicate work of Claudia Lugo. Her copper wire sculpture hangs from the ceiling. The top portion is coated in orange gloss. The concept of guided flow is paramount. Materials, concepts, subject matters are allowed to develop and interpretation is given time to appear. It is important to listen and accept the gifts as they are given. Visually, Christina Baumann's painting just feels right in dialog. It's warm color palette of oranges and browns, accented with greens, seems made to order. When you look deeper, you find out their processes are similar. Christina has no preconceptions when starting a canvas. She allows it to come to life as she works. This results in abstraction that the viewer can interpret individually.
Dimensionality meets material
On the adjacent wall we find Simon Sieradzki 's dimension bending paintings. He turns 2D pieces of paper into 3D objects by folding them into paper airplanes. He places them on the floor or in the space between the historic factory windows and the modern ones, letting the light filter through. Then he paints their portraits or are they still lifes? As you stand at the two small scale paintings, you can look to the other end of PILOTENKUECHE and see Simon's studio. On the wall is a long vertical painting that accentuates the architecture and connects the space.
This connection of flow is also found in the work of Alexis Gros-Louis. At the base of a concrete column you find a sandwich of small horizontal planes drizzled in plaster and bound by a strip of plastic. They are joined by another small piece at the base of a column at the other end of the space. This time we have a brick-scaled piece of what appears to be concrete iced in a thick layer of wax. The two pieces are elegant in execution and lead the imagination on a series of paths.
All too familiar
The largest area gives space to take in the works of Michael Eppler, Anna Helga Marie Cornelie Cambier and Manuel Poitras. All three reconfigure things we find around us every day. The disembodied pop culture faces in Michael's colourful painting look like something from a candy wrapper. They come from space and it is unclear if the use of scale is about proximity, relevance or simply a matter of size, since we usually see them on a variety of screens. Anna's explosion of color and seemingly disperate materials reminds us that all things are connected. The polarisation we are witnessing doesn't have to be. Open discourse can lead to understanding and re-evaluation. It takes vision to find similarities and embrace differences.
Manuel's fountain of rejuvenation further examines our personal role in the cycle. No materials were harmed during this creation and new homes are planned. Just like we have to play an active role in our personal health, we have a responsibility in society and to the planet.
warm memories are made of this
As we come to the most intimate space, we are welcomed by memory. Shahar Kramer's crumpled papers refer to her studio that we saw near the beginning of the space. The small scale video shows the cutting of the couch we find in pieces there. We are reminded that memory is indelible. It can not be undone. It can be and is constantly being reinterpreted, however. We see this in Owen Patrick Bradley's installation of carefully placed feathers and teabags joined by plaster pyramids covered in colourful dots. The piece conjures thoughts of moments shared or unshared, universal or personal, monumental or mundane: daily routines that are unique in execution. It is a poignant display of being in the now.
written by maeshelle west-davies
---
Keep coming back to our PK website magazine for more insightful pieces about the artists written by our interns. Our final show is not far away. Mark your calendars!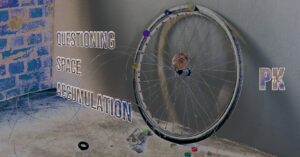 Questioning Space Accumulation
Vernissage
Sat 18 Dec 7PM
open
Sun 19 – Tue 21 Dec
2PM – 6PM
Alte Handelsschule
Giesserstr 75
04229 Leipzig
---
ROUND 49 // Oct 2021 – Dec 2021
Manuel Poitras (CA)
Simon Sieradzki (AU)
Claudia Lugo (MX)
Shahar Kramer (IL)
Owen Patrick Bradley (US)
Anna Helga Marie Cornelie Cambier (DE)
Alexis Gros-Louis (CA)
Local participants:
Christina Baumann
Michael Eppler (DE)
Curator:
Carolina Valente (PT)
Interns:
Fanni Papp (HU)
Iqra Ghaffar (IT,PK)
Johanna Morgen (DE)
Kizzie McNeal (UK)