The International Art Program invites Artists from around the world. The studio is located in an romantic and fully remodeled old metalworks. With its exposed bricks large windows, high ceiling, and above all underfloor heating, this environment is inspiring. Artists have 24 hour studio access in the 465m² communally used space. Our concept strives to create a communal space that can lead to experimental collaboration and discourse between participants, as well as with the greater Leipzig community.
Our program is multi-faceted. Firstly, it includes visiting artist studios, exhibition spaces, project spaces, exhibits, and going on gallery and museum tours. Secondly, a preview exhibition or open studio event presenting initial work, takes place mid-way through the residency. Furthermore, scheduled consultations and critiques, culminating in a final group exhibition. During the final exhibition, the studio becomes our exhibition space.
The primary languages in use are English and German.
WHAT WE PROVIDE
The artists receive all documentation necessary to apply for funding and the visa processes. If required, the project assists with additional individual reference letters. In Addition each accepted artist is offered a partial stipend in kind, provided by PILOTENKUECHE. Furthermore we maintain engagements with several friends, to get in contact with the Leipzig art scene and increase the artists visibility.
Studio space
one furnished studio of up to 36m² per artist in our 465m² large communal loft.
under floor heating
concrete floors
wifi, and utilities
access to basic tools
approximately twelve international artists per round
shared use of tea kitchen
moveable walls that convert into exhibition space with areas of up to 150m²
Program
studio, gallery and off-space visits and museum tours
artist presentations
Friday potluck lunch
selected artists participate in our events & exhibitions:

preview exhibition / extended open studio:
final exhibition
Service
individual consultations by agreement with curatorial advice and critique
assistance with visa processes, funding / scholarship applications, artistic / theoretical / logistical questions
curation, event & exhibition organisation for the final exhibition
web-, graphic-, & advertising / press design, its production & release for the project
documentation of the project
'Welcome to Leipzig' letter & guide
general administration, organization & coordination of the project
Cost
participation fee:

2

100 EUR* / 3 months per artist, total costs after stipend in kind. this also which includes the
prior payment of 450 EUR per artist required to hold their place on the program. this payment is only refundable by cancellation in writing 3 months before the start date of the residency. otherwise it goes towards the total fee)
the fee covers the studio & the participation cost
travel costs, art materials & living accommodation are additional
Joint studio
we offer two shared joint-studio options per round. two artists may share a single studio space, as outlined above.
full costs / participation fee:

31

00 EUR

** / 3 months, per shared studio including a
prior payment of

700 EUR

per artist couple or group is required to hold the place on the program. this payment is only refundable by cancellation 3 months before the start date of the residency. otherwise it goes towards the total fee)
The artist is responsible for the costs of the participation, as well as insurance, transport and travel expenses. If you're looking for funding, please download our funding guide.
*The stipend in kind of 1400 EUR from "PILOTENKUECHE", is already deducted from the full program fee of 3500 EUR.
**The stipend in kind of 2800 EUR from "PILOTENKUECHE" is already deducted, from the full program fee of 6600 EUR.
STIPEND IN KIND

Certainly it is common to work countless unpaid hours in the art world, we believe this should be mentioned. For instance to value artists' work, PK has created this partial stipend in kind which directly subsidizes the full three month program fee. This action reflects our belief that artists should support artists and represents our unpaid working time.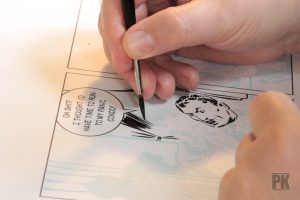 Living space
Living accomodation is additional. The project offers one shared apartment which hosts two artists:
we offer one place in a 60m² shared ground floor apartment for two artists near the studio at Demmeringstr. 68, 04177 Leipzig
2x furnished rooms, each with bed, shelves, desk & chair; communal kitchen & bathroom with basic inventory
wifi and utilities
total costs: 1500,00 EUR / 3 months, per artist including a
prior payment of 350,00 EUR per artist is required to hold the place in the flat, only refundable by cancellation in writing 3 months prior the start of the residency program; otherwise it goes towards the total fee
Other residents find rooms by themselves. The following links will help you find a similar room to live in Leipzig:
The closest districts to the studio space are: Leutzsch, Lindenau, Plagwitz, Zentrum. However, Leipzig is not that big and easily accessible by public transport or bike. Please contact us for any questions with, during or after your application – we love to help!
ARTIST RESPONSIBLITIES
Meet curatorial deadlines
Be open for exchange
Attend as many program days as possible
APPLICATION PROCESS
Who can apply?
Artists from all artistic disciplines (installation, video art, sculpture, electronic music, painting, drawing, performance, photography, net art etc.) are invited to send us an application.
How to apply?
Plans for residency 500 words or less PDF
please name file:
last name, first name PLANS
CV/Portfolio max 10 images PDF
please name file:
last name, first name CV/PORT

link to IRP online application form
We offer the following residency periods per year:
January – March
April – June
July – September
October – December
Funding

Artists are responsible for their own funding.
Grants Guide.pdf
Program Impressions
Exhibitions (New Space from 2017)
Exhibitions (Partner spaces)
Visits & Activities