The project "PILOTENKUECHE" invites selected artists within the "International Residency Program" from around the world to come and work in the 465m² communally used, fully remodeled space for a period of three months, with 24 hour studio access. The studio is located in an old barbed wire factory in the city's new underground artistic quarter: Leutzsch. While PILOTENKUECHE has been ready for artist use (including underfloor heating) for more than a year, the building itself is still undergoing renovation. With its exposed brick. large windows and high ceiling, this industrial environment allows for creative output that might not be realized elsewhere. The goal is to provide artists with a base to work from, and acts as a conduit to the local art scene. Our concept strives to create a communal space for experimental collaboration and discourse between participants, as well as with the greater Leipzig community.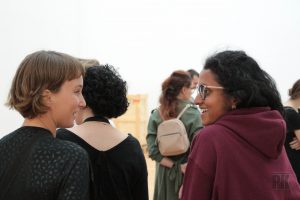 Each accepted artist is offered a partial stipend, provided by PILOTENKUECHE. We also maintain engagements with several partners, and by introducing our artists to these, offer the potential for participants to cooperate with and exhibit in other venues. In addition, the artists receive all documentation necessary to apply for funding and the visa processes. If required, the project assists with additional individual reference letters.
During the programmed events the studio becomes our exhibition space. Our program is a multifaceted. In participating in our residency, each artist participates in external studio visits, exhibition spaces, exhibits and gallery tours. The artist also has the chance to take part in an artist talk, which further clarifies their position, a preview exhibition or open studio event presenting initial work, which takes place mid-way through the residency, as well as scheduled consultations and critiques, culminating in a final group exhibition. The primary languages in use are English and German.
The program is regularly looking for artists. We accept applications at any time.
WHAT WE PROVIDE
Our "International Residence Program" fuses the use of studio space with programmed external activities. With this framework in mind, we intend for the two areas to become indivisible. These components are meant to reinforce one another, and to elicit an engaged response in a stimulating environment.
Studio space
one furnished up to 36m² large space (chair, table, provided tools) per artist in our 465m² large communal loft hall including wifi and all side costs (water, heating, energy, kitchen, toilet etc.)
approximately twelve artists per round working in the space
shared use of tea kitchen
full costs / participation fee: 1800* / 3 months, per artist which includes the
prior payment of 450 EUR per artist  required  to hold the place on the program. this payment is only refundable by cancellation 3 months before the start date of the residency. otherwise it goes towards the total fee)
the fee covers the studio & the participation cost
travel costs, art materials & living accommodation are additional
Joint studio
we offer two shared joint-studio option per round. two artists may share a single studio space, as outlined above.
full costs / participation fee: 2800 EUR** / 3 months, per shared studio including a
prior payment of 700 EUR per artist  required  to hold the place on the program. this payment is only refundable by cancellation 3 months before the start date of the residency. otherwise it goes towards the total fee)
The artist must take responsibility to pay individually for the costs of the participation and insurance, transport and travel expenses. Each accepted artist is offered a partial stipend, provided by 'PILOTENKUECHE', which directly subsidizes the full program fee. Normally the artist will look for an additional grant in his/her country to finance all the costs. If you're looking for funding, please download our "funding guide" which you can find in the Download section.
*The fee includes the partial-stipend of 1400 EUR from "PILOTENKUECHE", which directly subsidizes the full program fee of 3200 EUR.
**The fee includes the partial-stipend in kind of 2800 EUR from "PILOTENKUECHE", which directly subsidizes the full program fee of 6400 EUR – as well as an additional 800 EUR deduction.
STIPEND IN KIND

Though it is common to work countless unpaid hours in the art world, we believe this should not be an expectation. In an effort to attach a value to artist's time, PK has created this partial stipend in kind which directly subsidizes the full three month program fee. This action reflects our belief that artists should support artists and represents our unpaid working time.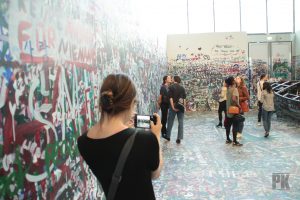 Program
studio & gallery visits and museum tours
selected artists participate in our events & exhibitions:

preview exhibtion / extended open studio: the artists present their first works in a small group show / open studio
final exhibition: final group show
disciplines: activism, architecture, conceptual, design, digital, drawing, film, installation, intervention, mixed media, technology, intermedia, literature, painting, performance, photography, printmaking, sculpture, sound, video or other disciplines of arts
language: English / German
Studio Equipment
up to 36m² big working places equipped with a nice table, chair, lamp and working desks
moveable walls to change the space and to create up to around 150m² big spaces
newly designed windows
fast internet connection & wifi
under floor heating
new, oil-covered concrete ground
shower in a closed area
provided tools (on request): remote drill, hammer drill, levels, hammers, screwdriver, electric saw, welding machine etc.
Service
individual consultations by agreement with curatorial advice and critique
assistance with visa processes, funding / scholarship applications, artistic / theoretical / logistical questions, practical questions considering daily life by agreement
curation, event & exhibition organisation for the final exhibition
web-, graphic-, & advertising / press design, its production & release for the project (including roundmails to up to 1400 subsribers, posts to up to 4000 facebook followers)
documentation of the project
'Welcome to Leipzig' letter & guide
general administration, organization & coordination of the project
some of these services are done in home office if the team is not present in the studio
A large art supply shop called 'boesner' is 3km from the space where you can find everything for your work. Also near is a DIY/hardware store called "toom". For special requests we can assist with our local experience & knowlegde.
Living space
Living accomodation is additional. The project offers one shared apartment which hosts two artists:
we offer one place in a 60m² large shared apartment for two artists close to the studio at Demmeringstr. 68, 04177 Leipzig, ground floor
1x fitted kitchen, 1x bathroom
2x furnished rooms with a bed, shelves, desk & chair each room; communal used kitchen & bathroom with basic inventory
wifi
full costs: 1400,00 EUR / 3 months, per artist including a
prior payment of 350,00 EUR per artist is required to hold the place in the program, not refundable, only refundable by cancellation prior the program (3 months before the residency starts; otherwise it turns into the total fee)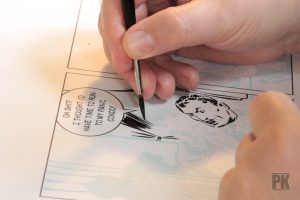 Other residents find rooms by themselves. The following links will help to find a similar room to live in Leipzig:
The districts which are close or related to the studio space are: Leutzsch, Lindenau, Plagwitz, Zentrum. Please contact us for any questions with, during or after your application – we love to help!
Program Impressions
Exhibitions (New Space from 2017)
Exhibitions (Partner spaces)
Visits & Activities

ARTIST RESPONSIBLITIES
Meet curatorial deadlines
Be open for exchange
Attend as many program days as possible
APPLICATION PROCESS
Who can apply?
Artists from all artistic disciplines (installation, video art, sculpture, electronic music, painting, drawing, performance, photography, net art etc.) are invited to send us an application.
How to apply?
Please apply via email to info@pilotenkueche.net. The application should include:
a short CV
an artist statement
representative number of examples of your work and (if existing) a link to your website
We offer the following residency periods per year:
January – March
April – June
July – September
October – December
Please read our Application Guide to read more details and get an overview of the provided information.
Downloads
1 Application Form.pdf
2Application Formodt
3 Application Guide.pdf
4 Grants Guide.pdf
Useful Links
www.transartist.org and their information about residencies and funding
www.resartis.org and their information about residencies and funding
www.on-the-move.org
www.artistcommunities.org and their information about funding
www.touring-artists.info
mobility funding guides
culture funding watch