Some impressions of 'another great show' (Tighe O'Connor) – 'Gute Stube' (16.01.2016) – during the famous 'Spinnereirundgang Winter 2016' with works of the 27th round (October 2015 – January 2016). Diverse positions are linked and mixed by common topics, a similar focus or any connection to light up intersection in between different disciplines and artists. We thank all participants, our performative promotion team and all of our friends for working together. 

Impressions of the exhibition

Impressions of the performative promotion

Artists
Cleo Sanchez (Installation; Spain)
Dongkwang Jo (Mixed Media, Installation; Scotland)
Doris Hansen (Drawing, Objects; Germany)
Henry Kunkel (Painter; Boston, USA)
Jenny Lewis (Photography, Mixed Media, Performance; Glasgow, Scotland)
Magdalen Chua (Conceptual, Writing; Japan)
Nazli Ceren Ozerdem (Mixed Media, Photography, Textile; Istanbul, Turkey)
Patrick Segura (Mixed Media; PILOTS STIPEND 2015; USA)
Štěpán Beránek (Sculpture; Czech)
Tadasuke Jinno (Mixed Media; USA)
Tanja Laeri (Architecture, Drawing, Painting; Swiss)
Ines Lucines (Coordinator, Painter; Leipzig, Germany)
Martin Holz (Coordinator, Mixed Media, Painter, Author; Leipzig, Germany)
Guests
Immanuel Rohringer (Performer; Berlin, Germany)
Martin Paul Müller (Painter; Dresden, Germany)
Rafael Herrmann (Mixed Media, Painter; Leipzig, Germany & Swiss)
Stephan Seidel (Author; Leipzig, Germany)
Lara Rüter (Author; Leipzig, Germany)
Artur Krutsch (Author; Leipzig, Germany)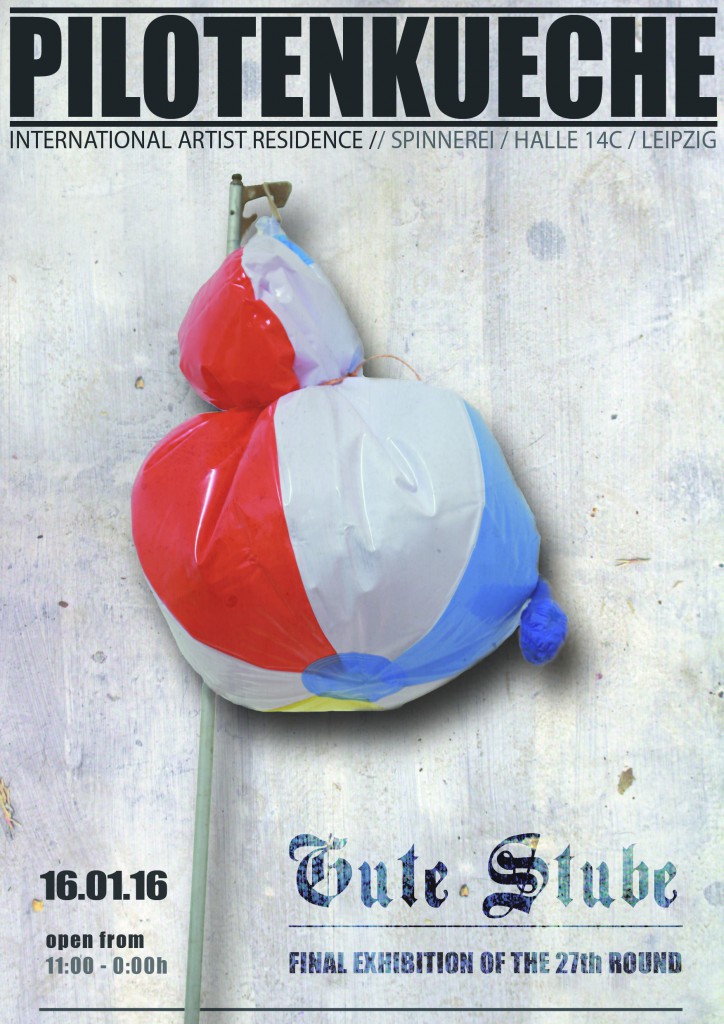 Program "Gute Stube"
(The "Tagesgericht")

15:00h – ART des Hauses. Künstler führen durch die Ausstellung. Mit Diskussionsbeilage.
Artists guiding through the exhibition.
17:00h – Für den kleinen Hunger. Bockwurst & Gürcken. Dazu 4th pilots award.
Dinner and 4th pilots award announcement.
17:15h – Empfehlung des Hauses. Das erste Jahr. Ein Rückblick. Dazu wird ein Vortrag serviert.
The first year. A review with lecture about the project.
18:00h – Wir decken auf. The absolut real truth about the "Eastside". Mit Diskussionsbeilage.
Lecture about the "Eastside Studio" break down.
19:30h – Kulinarisches. Lesung mit Stephan Seidel, Artur Krutsch und Lara Rüter.
Reading.
20:30h – Delikatesse. "Was mich in Asien erreichte – Von der Biennale Istanbul". Leseperformance mit Immanuel Rohringer.
Reading performance.
21:00h – Dessert. "THESEN ZUR SACHE DES BARBAREN". Vollwertlesung & Performance mit Martin Holz.
Reading performance.
21:30h – Kalte Platte. Kleine Tanzeinlage mit Ringelpiez.
Dance!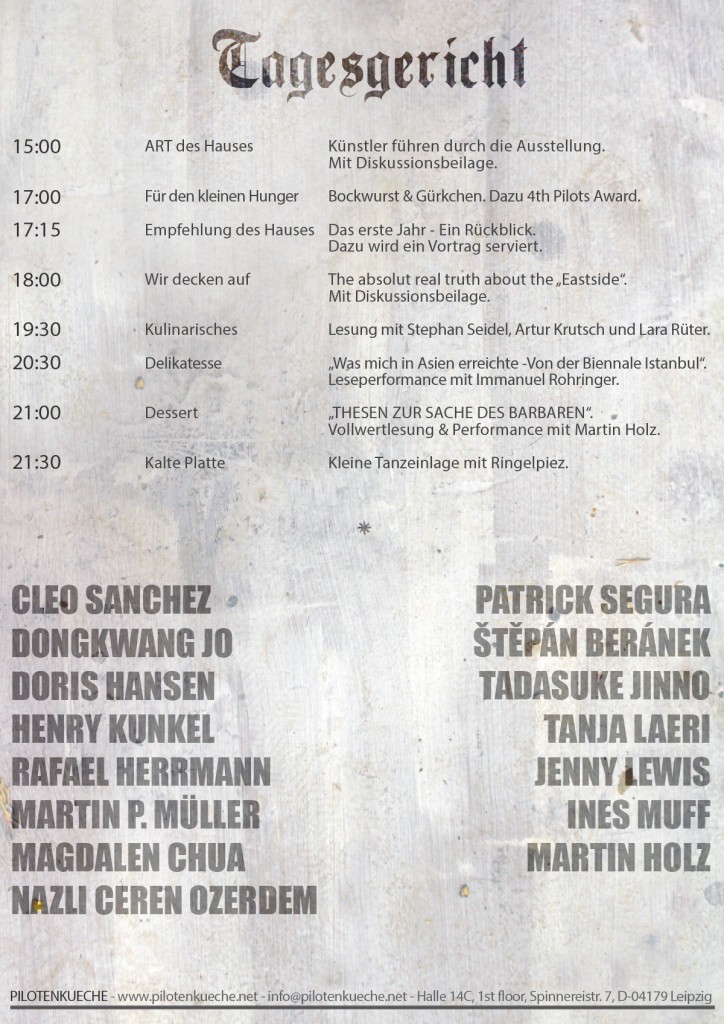 Download & Share
1 The official flyer of "Gute Stube".
Comments
1 Post picture by Patrick Segura.