PILOTENKUECHE is about to become a teenager. Yes, we will turn 13 this year. It was 2007 when Austrian HGB student Christoph Mayer got a space at Spinnerei. This shared space was constantly evolving as students came in and out. I remember my first Spinnerei Rundgang in 2010 and my excitement upon finding it. I thought the art stood out as being more dynamic than much of what I had seen that day. I had no idea that somehow my path and the path of PILOTENKUECHE would join in the future.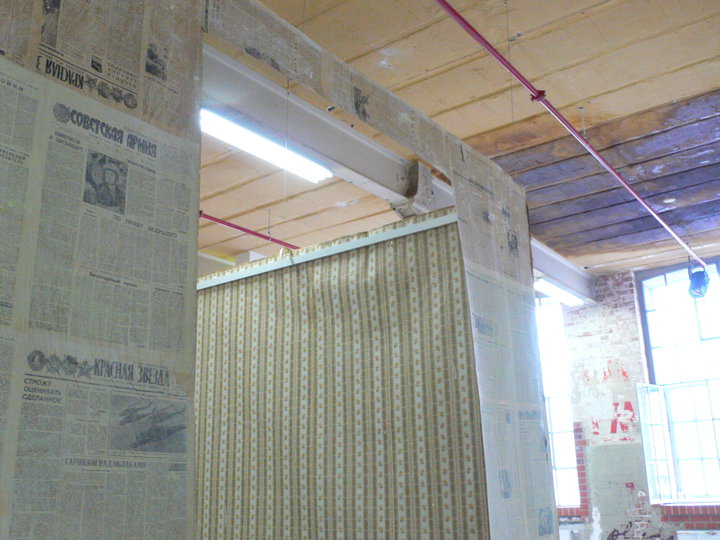 Healthy growth is organic. PILOTENKUECHE started in that magical space in Halle 18 and evolved with each new spurt. It developed from being a student shared studio into a multi-faceted art residency, complete with international curators and interns. The fertilizer hasn't changed. It has always been fed by international artists being given space to expand.
Each director has done their part to move it forward through hours and hours of dedication and passion. Last July, Julianne Csapo took over the reigns. A year on, we have been working on the next phase. From day one PILOTENKUECHE has empowered international artists. We want to expand the local artist program to include sending Leipzig artists to other residencies. Our first International Exchange Program action is with Goodyear Arts in Charlotte, North Carolina. Renee Cloud was to come to Leipzig in October and we were in the process of determining which of our local artists was to go to Charlotte. We were applying for funding.
And then came COVID 19.
As you know, people are in lockdown all over the world. That means our artists are too. This hasn't stopped us from keeping RD 43 as cohesive as possible. Two of the original twelve are participating in the round right now. Austrian artist Sarah Bildstein is happily spreading out in our 465m² space in Leutsch. Canadian film-maker Daniel Sterlin-Altman is animating carrots remotely. One of our local artists, Lebanese born Mazen Khaddaj has been making video performances in the empty space and our other local, Israeli artist Guy Eytan, has had to work from afar because he got trapped when he went home to vote. They don't do absentee ballots there.
While most of round 43 has postponed, we are keeping in touch with those who have stable net in lockdown via video conferencing platforms. Usually, they would influence each other just by being in the same shared studio. Now they share tasks. The variety of interpretations and the willingness to share has been inspiring.
We are excited to invite you to Delicious Procession, the first of two exhibitions for RD 43. In the large basement of Kunstkraftwerk, there will be video and soundscape pieces that were created during lockdown. In addition to the artists who are on the residency, we have included the ones who could participate online as guests. We feel the work is worth experiencing. Naturally, we will be following COVID 19 restrictions for your safety. The space is huge and outside there will be plenty of room to social distance. We really hope to see you there!
Don't forget your mask!
Unusual times call for unusual measures. Even our curator, Steffi Stouri, is in Greece and one of our interns, Britni Lucille is in the States. That leaves Julianne, Maayan, Mazen and me to install. We are up for the challenge. Culture remains a valuable work that can reach people on levels nothing else can.
PILOTENKUECHE is, as always, looking to the future. From the very beginning in that shared studio in Spinnerei, the artists shared running costs. This hasn't changed. Many of our artists secure funding in their home countries to come. With intercontinental travel unsure, artists can not make commitments. Though Julianne and I are working with no pay, unfortunately, the running costs continue. No one can foresee the future, but as it stands, it's clear we need help if we are to be here when we are back to full capacity.
PILOTENKUECHE needs your help
Despite some COVID relief money, our overhead can not be met unless we have outside help. Culture empowers all it meets. You can do your part for Leipzig, the artists, the curators, the interns and yourself. Any donation and/or sharing is much appreciated.
written by maeshelle west-davies, artistic director / coordinator
Delicious Procession


vernissage: Sat 30 May 8PM-10PM
venue: Kunstkraftwerk, Saalfelder Strasse 8b, 04179 Leipzig, Germany
Words taste different now.
The metallic aftertaste of hugging lingers, shaping our memory of the absurd.

one after the other we speak.
one after the other we listen;
In our attempt to get a taste of each other's lives:

There are good days and bad ones, as it has always been.
In the good ones people respond to jokes and you can almost taste the alkalic sun;

one after the other we stand and wait
all that is left is to indulge in the thought of the other, reach for familiarities and intriguing differentiations.

curator, Steffi Stouri


PK residents

Mazen Khaddaj
Guy Eytan
Sarah Bildstein
Daniel Sterlin-Altman


guests from lockdown

Kana Maeda
Norbi Kovács
Neill Lin
Celine Ordioni
Austin Turley


please note:
COVID 19 restrictions apply