"Plants have souls," says Ugandan artist Erinah Frida. That was all German artist Viktoria Sophie Conzelmann needed to hear. She had been feeling like an outsider when she talked about her love for and use of plants in her artwork. It was clear that these two were a good match for the third in a series of Virtual Gallery Tours organized by Goethe-Zentrum Kampala UGCS. The event on Wed 17 Feb is in cooperation with Silhouette Projects in Kampala and PILOTENKUECHE International Art Program in Leipzig.
The Virtual Gallery Tour project is a means of collaborating between Germany and Uganda, but the online format makes being an audience member possible for anyone in the world. Each session invites upcoming and established visual artists from East Africa and Germany. The programme consists of a short video of the artists' creative space, followed by a curated conversation via You Tube Live / Zoom.
plants are universal
Moderated by Lara Buchmann from Silhouette Projects in Kampala, this time the topic is, you guessed it, plants. While Business Insider notes that millennials have created a boom in the house plant industry, for mixed media artists Erinah and Viktoria, there is a deeper and more personal connection. Erinah, who grew up on a farm, assigns her friends and family members their own personal plant. These plants are chosen based on the properties of the plant and relate to the character traits of the people. She "aims to show the strong similarities of plants and humans by mixing facial features and flora and fauna, creating a mysterious environment with hidden figures and images."
Viktoria, who lives in Leipzig, has a permaculture garden where she grows plants. She then brings them into the studio to "create installative spaces, objects and collages that tell a futuristic and fantastical story about how the world could also be. I see my work as a root-like extension of life into the past and the future. Intra-connecting and spreading all
at once."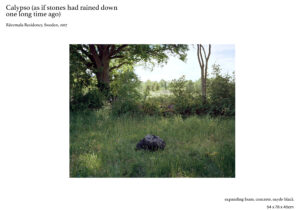 PILOTENKUECHE is very pleased to have been asked by Goethe-Zentrum Kampala UGCS to be the participation partner here in Leipzig. We look forward to the event and future interaction with them and Silhouette Projects. As an international art program, we welcome exchange.
written by maeshelle west-davies
feature photo Erinah Fridah, work in progress at Silhouette Projects.
---
Viktoria Sophie Conzelmann (DE)
Erinah Fridah (UG)
Wed 17 Feb 2021
6PM (EAT) 4PM (CET)